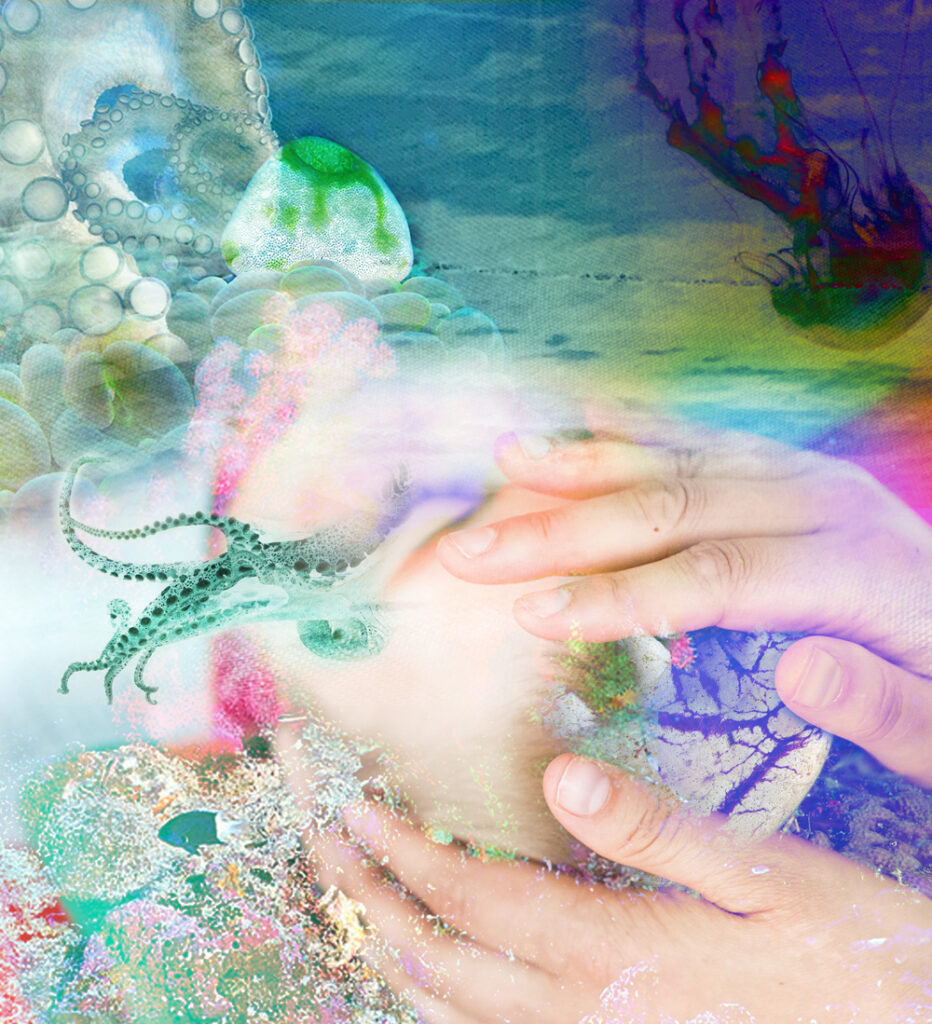 Games are produced in collaboration with Mad House Helsinki.
Place and time TBA.
Deep Time Transcestors -larp is a speculative fiction about evolution. The game opens up a multidimensional time-space continuum, in which participants can explore how it feels to embody their trans ancestors' bodies in this time. A group of trans- and non-binary people have come together to invoke a pre-historic transcestor to take them on a deep time travel to the time when all multicellular life was still under water. They travel through the queer prehistory through somatic and fictive exercises. The aim is to embody the fundamental queerness of evolution, and display the source of life as trans and non-binary.
The player-chatacters study their prevertebrate, throbbing and watery bodies through sense and movement. As the game advances, they form protective hybrid trans ancestor symbionts in physical contact with each other.* The game is mostly non-verbal and centers on movement and touch.
Safer play and other game -techniques will be practiced together in the workshop that starts the game day.
The game is open for transgender, non-binary, and genderqueer players. We do not evaluate whether you are "something enough" – yes you are!
There is room for 12 players.
If the games fill up, and we need to choose players, we will prioritize those who belong to several culturally marginalized groups, to which you may identify upon signing up. Sign up opens up on the 21st of September and closes on the 26th of October. Everyone will be informed about the player selection on the 2nd of November. You will get your character information then too.
You don't need to have prior experience on larping, and the game doesn't require a lot of preparation. The characters dress in present day clothes, and the fantasticity of their bodies are not expressed through masking.
Every character has 3 contact characters, for example friends, siblings or partners. We encourage the contact character players to chat briefly about their relationship before the game. When you get your character, you will get easy instructions also on how to do this.
There is a photographer in the game. Being in the photographs is voluntary.
Languages: Finnish and English.
*The game includes touch on the areas of hands and arms. Parts where there is touch, will be played with face-masks on. If the corona-situation in December is more severe, the parts touching mechanics will be replaced with mechanics that allow a safety distance to other players.
Larp design: Teo Ala-Ruona, Even Minn, Pihla Lehtinen
Sound design: Satu Kankkonen
Costume design: Alvi Haapamäki
Artistic and theoretical counsel: Camille Auer, Eeti Piiroinen
Dramaturge for dialogue: Emil Santtu Uuttu
Producer: Riikka Thitz
Photography during larp: Nova Kaspia
The pre-game workshop 11:00 – 14:30 (including lunchbreak)
The game: 15:00 – 17:30
Debrief: 18:00 – 19:00
Tickets: pay what you want. The working group will donate all the ticket income to Black Trans Travel Fund
Deep Time Transcestors -project is funded by Kone Foundation.
//////////////////////////////////////////////////////////////////
Pelit järjestetään Mad House Helsingin kanssa yhteistyössä.
Aika ja paikka ilmoitetaan myöhemmin.
Deep Time Transcestors -larp on spekulatiivinen fiktio evoluutiosta. Peli avaa moniulotteisen aika-avaruuden, jossa osallistujat voivat tutkia, miltä tuntuu ruumiillistaa trans-esivanhempien ruumiita tässä ajassa. Pelissä ryhmä trans- ja ei-binäärisiä ihmisiä ovat kerääntyneet yhteen manatakseen esiin historioiden takaisen trans-esivanhemman, joka vie heidät syväaikamatkalle aikaan, jolloin kaikki monisoluinen elämä oli vielä veden alla. Teos matkaa läpi queerin esihistoriallisen ajan somaattis-fiktiivisten harjoitteiden avulla. Tavoitteena on ruumiillistaa evoluution perustavanlaatuista queeriyttä, ja osoittaa kuinka elämän alkuperä ilmenee trans(ina) ja ei-binäärisenä.
Peli on suurelta osin ei-verbaalinen ja keskittyy liikkeeseen ja kosketukseen. Pelaajahahmot tutkivat esi-selkärankaisia, sykkiviä ja vetisiä ruumiitaan aistien, tunnustellen ja liikkuen, sekä muodostavat hybridejä trans-esivanhempi suojelussymbiontteja fyysisessä kontaktissa toisiinsa*.
Turvallisemman pelaamisen- ja muut tekniikat opetellaan yhdessä pelipäivän aloittavassa workshopissa.
Peli on avoin trans, ei-binäärisille ja sukupuolisopeutumattomille ihmisille. Emme arvioi onko kukaan "tarpeeksi" jotain: kyllä olet!
Pelissä on 12 pelaajan paikkaa.
Jos kaikki ilmoittautuneet eivät mahdu mukaan, osallistujien valinnassa priorisoidaan ihmisiä, jotka kuuluvat myös muihin/useampiin yhteiskunnallisiin marginaaleihin, joista voi halutessaan kertoa ilmoittautumisen yhteydessä.
Ilmoittautuminen avautuu 21. syyskuuta ja sulkeutuu 26.10. lokakuuta. Kaikki ilmoittautuneet saavat tiedon pelaajavalinnoista 2.11. Samalla saatte oman hahmokuvauksenne.
Osallistuminen ei vaadi kokemusta larppaamisesta tai suurta ennakkovalmistautumista. Hahmoille sopivat aivan tavalliset nykypäivän vaatteet, eikä kehojen fantastisuutta ilmaista maskeerauksella.
Jokaisella hahmolla on 3 lähihahmoa, esimerkiksi ystäviä, sisaruksia tai kumppaneita. Kannustamme lähihahmojen pelaajia keskustelemaan etukäteen lyhyesti hahmojen suhteesta. Saatte tähän hahmojen mukana helpot ohjeet.
Pelissä on mukana valokuvaaja. Valokuvissa mukana olo on vapaaehtoista.
Kielet: Suomi ja englanti.
*Pelissä kosketetaan muita pelaajia käsien ja käsivarsien alueelle. Kosketusta sisältävät pelikohdat tehdään kasvomaskit päällä. Jos joulukuussa korona-tilanne on vakavampi, kosketusmekaniikat korvataan välimatkan sisältävillä mekaniikoilla.
Larp-suunnittelu: Teo Ala-Ruona, Even Minn, Pihla Lehtinen 
Äänisuunnittelu: Satu Kankkonen
Pukusuunnittelu: Alvi Haapamäki
Taiteellinen ja teoreettinen neuvonanto: Camille Auer, Eeti Piiroinen
Dramaturginen dialogi: Emil Santtu Uuttu
Tuotanto: Riikka Thitz
Valokuvaus larpissa: Nova Kaspia
Peliä edeltävä workshop: 11:00 – 14:30 (sisältää lounastauon)
Peli: 15:00 – 17:30
Purku: 18:00 – 19:00
Osallistumismaksu: Maksa mitä haluat. Työryhmä lahjoittaa osallistumismaksut kokonaisuudessaan Black Trans Travel Fundin toimintaan.
Deep Time Transcestors -projektia on tukenut Koneen Säätiö.